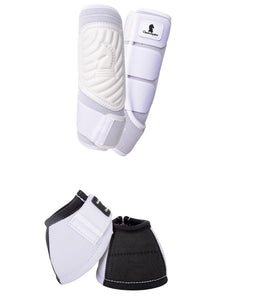 Classic Classic Fit Front Boots
Classic Classic Fit Front Boots Combo
Fast, simple application. Suspensory sling is uniquely positioned for correct angle alignment to ensure lower limb support. Ergonomic design provides a clean, close fit with bound edges to keep out dirt and debris. Lightweight to allow natural movement with support and flexibility. Neoprene body and shock absorbing inner pad reduces shock from impact. Laminated jersey lining is comfortable and does not rub, bunch, or fold.
&
No Turn XT Bell Boots  W/Kevlar  
Tough 2520 denier DynoHyde body. Back panel is covered with a tough elastic material for added protection and durability. Shock absorbing nitrate center guards against the toughest blows. Reinforced double hook-and-loop strap closures and contoured fit assure you of a long lasting and secure method to keep boots in place.