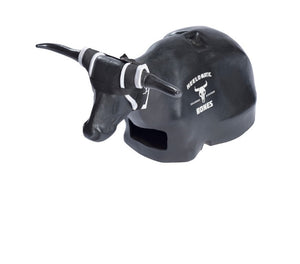 Bones - Heading Dummy [Store Pick Price $ 550.00]
Our Bones Heading Dummy is an incredibly realistic and portable roping dummy that will help you hone your heading technique.
This heading dummy is made from durable, molded plastic
With a sturdy and wide base, you don't have to worry about this roping dummy tipping, slipping, or sliding
Each Bones Heading Dummy comes with a horn wrap and three sets of horns (19" - small, 28" - medium, 33" - large) for variable practice scenarios
The perfect roping dummy for headers, the Bones Heading Dummy is a realistic dummy that you can bring anywhere you go. With three sets of horns and a sturdy, wide base, this roping dummy will make you feel like you're in a real live rodeo roping cattle. Use this roping tool to practice swing angles, loop placement, and muscle memory.
What to expect when ordering 
Inventory:
Most products are in stock. If there is a supply issue you will be notified of the expected ship date.
Order Processing:
Orders typically ship within 3 to 14 business days for domestic orders.
Orders are shipped Monday through Friday, excluding major holidays.
Orders shipped via FedEx, UPS.
Orders are shipped via ground transportation
Drop-ship order only information