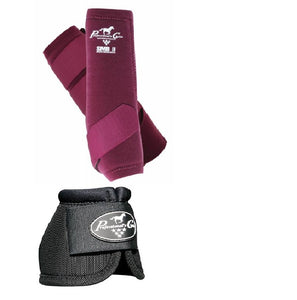 SMBII SPORTS MEDICINE BOOTS & BALLISTIC OVERREACH BOOTS


SMB IIs are the best selling equine leg care products in the world. They have protected countless performance horses over the years in every imaginable event, including polo, jumping, reining, barrel racing, endurance, working cow horse and many others. For many horses, these boots have meant the difference between an extended career and periodic or permanent injuries. So, its no wonder there have been numerous attempts to copy them.
COLOR : WINE
MEDIUM
&
Durable Ballistic nylon outer cover and binding makes these boots especially tough and able to take the daily abuse of riding in any discipline. UltraShock lining absorbs energy from overreaching and protects the vital areas of the hoof, cornet band and bulbs of the heel, while the soft no-turn knob keeps the boot from spinning.
COLOR : BLACK
MEDIUM