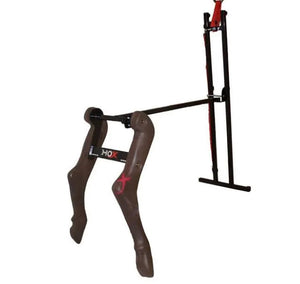 Heel-O-Matic HOX
Hox Heel-O-Matic Roping Dummy - The HOX by Heel-O-Matic roping dummy is most functional roping dummy on the market. Can attach anywhere either on the back of a trailer, fence, or stalls. With the hide-like wide legs that have the ability to swing or lock into place for multiple positions, and its adjustable height and variable legs settings gives you an endless of possibilities of heeling scenarios. The HOX dummy is light-weight formula and collapsible frame makes it easy to transport and take anywhere you go. * Solid Foam Legs to Prevent Rope Sliding * Collapsible Frame for Easy Storage* Compact and Portable.


What to expect when ordering 
Inventory:
Most products are in stock. If there is a supply issue you will be notified of the expected ship date.
Order Processing:
Orders typically ship within 3 to 14 business days for domestic orders.
Orders are shipped Monday through Friday, excluding major holidays.
Orders shipped via FedEx, UPS.
Orders are shipped via ground transportation
Drop-ship order only. 
Drop -ship fees are 15%